SingASign's design has the diatonic scale degrees (which get the most use)
under the Home Key positions. You don't even have to move your hands!

Do Re Mi Fa So La Ti Do
Rhythm entry is also quick and easy!
Stick notation is grouped by beats, not just single notes.
Special feature: The most frequently-used note values
(quarter, half, whole, 2-8th and 4-16th notes)
are typed with the index fingers!
Two fingers-- how easy is that?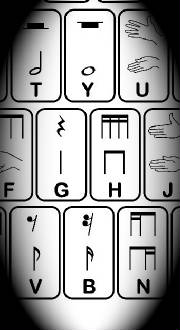 Make your own great-looking visuals.
Save your retirement money that you're now spending on teaching materials!